Tuesday, November 15, 2011
Sponsored by Tomoson.com
Prefense
provides safe, all natural, alcohol
free
all-day antibacterial protection from germs for 24 hours or up to 10 hand washings.
Prefense is Non-Toxic and Safe For Kids!
Contains soothing botanicals that softens your hands to prevent drying, redness and chapping.
Contains 120 sprays.
For everyday protection, whether at work or play, Prefense will safeguard you and your family against today's superbugs.
Because our "one spray lasts all day", our hand sanitizer only costs about $.08 per day, compared to $1.20 per day with traditional
hand sanitizers
.
Ingredients : Amosilq Silica Complex, water, vegetable glycerin, Cocamidopropyl Betane, organic essential oils.
Now onto my review...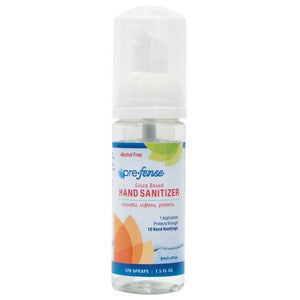 I was sent a 1.5 fl oz bottle of
Prefense
hand sanitizer to review. One of the many things I love about this hand sanitizer is that it contains NO alcohol. That is so important me, since my skin dries out very quickly. Another thing I love is that it has a pump and the sanitizer is foam. I love the foam versus the liquid. Another fabulous thing is that your hands will be protected for up to 24 hours or up to 10 hand washing with only ONE application! I haven't seen any other hand sanitizers, on the market, make that kind of claim!
I love how soft my hands feel. They almost feel more moisturized than when I use certain hand lotions. Prefense hand sanitizer has almost no smell to it which is perfect considering I wear scented hand lotions. I can't stress enough how this DOES NOT contain any alcohol.
My little lady bug is a hand sanitizer nut and she gives this two thumbs up! She is SO picky when it comes to....well, ANYTHING, and she was eager to try this out and compare it to her 50 billion other hand sanitizers that she carries around. She said she loves how soft her hands feel. Needless to say, she has added this to her endless collection. I have noticed her, several times, reach for this one instead of the others.
All in all, I'm extremely impressed and on a scale of 1-10, I will rate this an 11. As I stated earlier, I don't like to use hand sanitizers due to containing alcohol and that drying out my already dry hands. Prefense is PERFECT for me and will be perfect for you too!
You can find, and follow, Prefense on facebook
here
and twitter
here
.
Where to buy:
You can purchase Prefense products directly from their website at
http://www.prefense.com/products/
for an awesome price, compared to other retailers. You can also purchase from Amazon.
Win It: Thanks to Prefense and their generosity, one lucky winner is going to receive their big
8oz
bottle of Prefense hand sanitizer
which offers 640 applications! With one spray lasting all day, you have the potential of having this bottle for 2 years...crazy huh?!! This contest is open to US residents only and will end on December 9, 2011.
I received one or more of the products mentioned above for free using
Tomoson.com
. Regardless, I only recommend products or services I use personally and believe will be good for my readers.