Tuesday, February 28, 2012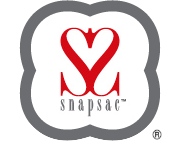 FROM THE SNAPSAC WEBSITE
SnapSac™ is a division of 1 Bag at a Time, Inc., a leading supplier of reusable bags to grocery stores, businesses, governments, schools, libraries and community groups. At 1 Bag at a Time, Inc, we are committed to social, environmental, and economic responsibility. We strive to live our values every day, and bring you a tote bag that is fashionable and socially responsible, just like you!
We see SnapSac™ as the next evolution in reusable bags. We created it to renew excitement about what a bag could be and should be. Our goal was to give you style, quality, and responsibility—all for about the price of a latte.
SnapSac™ grew out of our desire to listen to consumers. We survey our customers to find out what people really want in a tote bag, and we continue to make listening to consumers important for future improvements and evolution to our products. We encourage you to join our conversation and tell us what you think about our bags and how our products can serve you better!
I was given the opportunity to review the SnapSac Tote Bundle in Pop Colors and I can honestly say I was thrilled. I'm all about reusable, earth friendly items and these totes are just that!
This bundle comes in 3 different sized totes. The Petite Tote measures 18", the Super Tote measures 24" and the Mega Tote measures an outstanding 36"! These 3 totes are perfect and just the right size for all of my needs when I'm traveling out of town or going shopping at the mall or grocery store.
The SnapSac snaps in 3 different places. One is on the outside, one is on the inside pocket, and the other snap is for after you fold it back up.
The uses I get out of the Petite Tote are endless. I can carry all of my hair products, appliances or diapers and wipes with room to spare for some of baby C's toys. It's also good to use if I'm making a quick trip to the supermarket or convenience store. My oldest daughter plans on using it to carry her athletic clothes in. Hey, if your like my mom, you could take it to the library and have something fashionable to carry your books around in; my mom will go to the library and end up coming back with 5 or 6 books!
The Super Tote is a good size tote bag. Big enough to carry all 3 of my kids clothes when going out of town. It's also a good size tote if you want to carry your knitting projects with you, with tons of room to spare! You could also use it when doing some light grocery shopping.
The Mega Tote is huge! Now, this tote will carry TONS of things. Family day at the beach? This tote will carry everyone's towels, shoes, sunblock, snacks, you name it! Why not use it as a fashionable clothes hamper? Fill that baby up and when you're ready to wash, just grab the handles and go!
I will definitely get tons of use out of each one of these totes. I love how easy it is to fold back up and store once your done for the day; now that is what you call convenient!
HOW TO CONNECT:
You can purchase directly from their website
HERE
. You can follow SnapSac on
Facebook
and
Twitter
.
HOW TO WIN:
One lucky reader, from the US only (sorry my international beauties!) will win your very own tote of your choice. Contest will end on March 24, 2012. Good luck to all!
*
Disclaimer: I was given the mentioned products to facilitate this review. I was not paid monetarily for this review and all opinions are 100% my own.
a Rafflecopter giveaway