Tuesday, June 19, 2012
A little bit about Shoplet.com (from their website)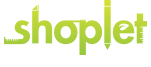 We understand the needs of small and midsized business, and it's our passion to equip these companies with the tools and supplies they need to tackle the big guys. We promise to uphold the highest levels of customer service.
CUSTOMERS drive our business: Customer satisfaction is our reason for being. We strive to provide the highest level of service and consistently exceed our customers' expectations.
HONESTY is our foundation: Honesty is the cornerstone for all our business relationships. Our customers and partners deserve nothing less than the highest ethical standards from every level of our company.
EXCELLENCE is our goal: Excellence is the standard by which we measure performance at every level and in every aspect of our business.
-------
I had been previously aware of Shoplet.com through visiting other blogs and I was a little intrigued by the products they offer. Although I am now a stay at home mom, I did work for a large company therefore I am aware of the various office supplies. After receiving several items to review, from Shoplet.com I am now aware that there are 'fancier' versions of those office supplies that I was used to!
Let me start off by talking a little bit about the
Pendaflex Ready-Tab Lift Tab Reinforced Hanging Folders. The hanging folders I was used to were just that, a hanging folder. What sets these hanging folders apart from the others are the ready-tab lift tabs. I don't know about you but this is the first time I have seen hanging folders with a ready-tab lift tab. The b
uilt-in tabs can be easily lifted up or down to make filing set up faster and easier than ever. It features
patent
pending Lift Tab technology, which makes tabs sturdier and easier to change position. You can w
rite directly on tabs or you can use the included sticker labels.
Polylaminate reinforced tops and bottoms. I would have loved to have had the Pendaflex Ready-Tab Lift Tab Reinforced Hanging Folder when I was working! It certainly would have helped me to stay a lot more organized. The folder, itself, is like any other hanging folder I have come across but one of the huge differences I noticed is how sturdy the actual part, that allows it to hang, is. On Shoplet.com, you can purchase a box of 25 for only $22.35.
The
Pendaflex Divide it Up File Folder
is an item that I think EVERYONE should own, whether it's for work or your own personal use. This file folder contains t
hree sections in one folder to help manage multiple documents or projects. The s
ections are closed on two sides to prevent papers from falling out. I haven't tested this part out yet, but their website says it h
olds 175 sheets of paper..wow! I think these file folders would be perfect for teachers all around. I have noticed that when I'm having a parent/teacher conference, my daughter's teacher will carry all of the papers in just her hands. I think if I notice that, this next coming school year, I'm going to have to direct her/him to Shoplet.com! As with the other, I have not seen a file folder quite like this. I will admit that I am a very unorganized person and then things like this come into my life and make it soooo much better! I think more and more companies should invest in products like these to help their employees become better organized, since that is their top priority. These file folders would work great with the P
endaflex Ready-Tab Lift Tab Reinforced Hanging Folder or just your regular ol' hanging folders. On Shoplet.com, you can purchase a box of 12 for only $7.85.
Sub-dividers
Last, but certainly not least, is the Ampad Project Planner. Now tell me, who couldn't use a project planner! When you are a mom on the go and you have so many things going on all at once, it sure does help to have a planner to keep you organized and to help prevent you from forgetting something possibly important! The
Project Planner benefits breast cancer research and education with a portion of the profits donated with each purchase. The numbered spaces with heading and action columns with planner ruling is perfect for meetings or notes at your desk. The Planner includes a super cute pink-and-white-striped cover with the breast cancer pink ribbon emblem on the bottom right corner. On the top left hand side has a place to write whom it was prepared by and the date. Just underneath that (on the left hand side) is a place for your project action notes. At the top, middle, is a place for the heading and page number and then underneath that is the place for your project planning notes. This planner contains 84 high quality sheets that are microperforated for clean and easy sheet removal. The only complaint that I have is that the inside print is a little too light and made it a wee bit difficult to see, but if you're looking for a nice and sturdy
daily planner
, then this is a great pick! On Shoplet.com, you can purchase the Ampad Project Planner for only $5.24/each.
If you are looking for top quality office supplies with the hefty price tag, I would highly suggest you check out Shoplet.com.