Saturday, December 3, 2011
My Face Case
is revolutionary new
cosmetic bag
that will hold most, if not all, of your makeup items and then some.
I would like to introduce you to "
Ginger
". I chose "Ginger" for the obviously beautiful colors. This makeup bag is one of the neatest things I've come across in a very long time. I have never seen anything like it. Pictured to the left, you will see 8 different pockets plus the middle. This bag can hold a lot of stuff! It's just simply perfect. I don't have to dig around to find anything anymore. I kept all like items together. All of my blushes are together, my makeup brushes are in one pocket, eyeliners in another, lipglosses in another and so on and so forth. I still have room in the middle to add a few more things! I have quite a bit of makeup and it's always a chore to dig around just to find my eyeliner, or lipgloss. I would end up dumping all of the contents out onto the bed. Aggggh, what a pain! The bag stands up on it's own when opened, so nothing falls out! When your ready to close it, just pull the strings to tighten it up and then tie it together...easy peasy, huh!
Stands up on it's own!
The Face Case is made up of 2 1/4 yards of thick fabric; nothing flimsy here, my friends! I just love the nice, bold colors on the fabric. Here are some of the other styles that are offered in her shop: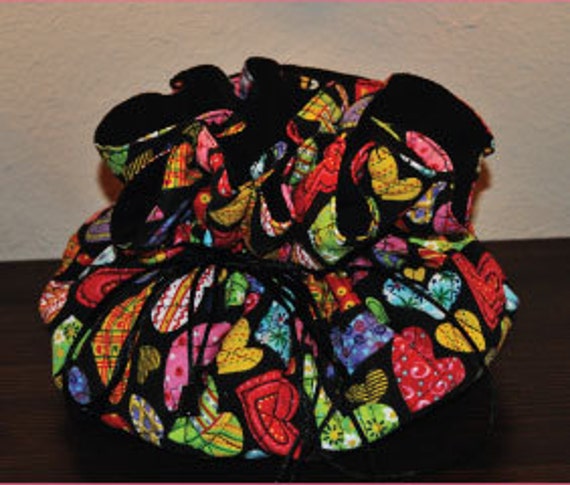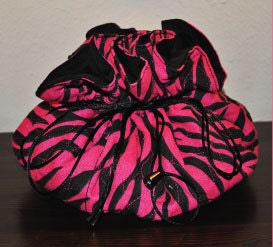 WHERE TO BUY:
You can purchase one of these beauties from My Face Case Store
here
(Etsy)
or
here
on her own website.
WANNA WIN ONE??? Yea, I know you do :)
Keep reading to find out how...
Bonnie from My Face Case Store is generously offering to give one my lucky readers the chance to win one of their own! Pictured below is the one you will win. Purrrrty isn't it?!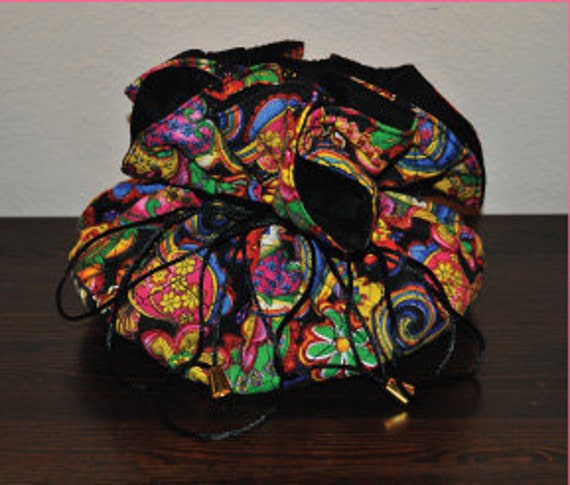 Her name is "Lauren"
Since I will be mailing the winner their prize; the contest will only be open to the US and will end on December 23, 2011. Good luck to all!
*Disclaimer: I was given the mentioned product for review. I was not paid monetarily and my opinions are 100% my own.